CCCE Practical Nursing Students Thrive
Students in the Practical Nursing program at the Center for Career and Community Education (CCCE) seem to be thriving as the 2017-18 NCLEX-PN pass rate was 95.45 percent.
The NCLEX-PN (New York National Council Licensure Examination) measures student competency in nursing judgement, the nursing process, application and analysis of nursing content through questions that measure analytical and intuitive thinking. Candidates passing the NCLEX-PN are able to obtain employment as a Licensed Practical Nurse (LPN) in a variety of fields such as long-term care nursing, physician's offices, hospitals, dialysis, schools, hospice, home care and more.
"The practical nursing program is a non-credit bearing, 1200-hour program that starts at the end of August and finishes at the end of June the following year," said CCCE Health Occupation Coordinator Elizabeth Rice. "Incorporated into the program are 144 hours of lab and 364 hours of clinical time."
CCCE Practical Nursing students attend classes Monday through Friday. Clinical time provides rigorous, hands-on training and application in nursing skills such as medication administration, IV insertion, dressing changes, catheter placement, trach care and data collection.
"Students are taught nursing concepts such as fundamental nursing, geriatric nursing, pharmacology, anatomy and physiology as well as specialties such as nutrition, mental health, reproductive and pediatric care," said Rice.
CCCE is currently taking applications for the 2019 healthcare programs. For more information on career training and course offerings through CCCE, visit www.citiboces.org/adulteducation or call 315-593-9469.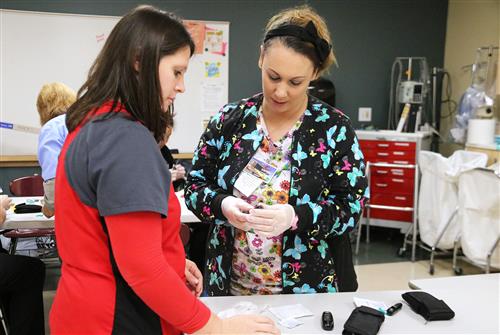 CCCE Practical Nursing students practice blood draws during clinical. From left, Kasya Wittcop and Ashleigh Spencer.