CiTi CARE Program Hosts Drumming Circle
The Center for Instruction, Technology & Innovation's CARE program (Credit Accrual & Recovery for Everyone) recently hosted a drumming circle with certified drum facilitator Sandra Sabene.
Sabene's "Rhythm Connections" inspires and strengthens a sense of community through various facilitated rhythm modules, creating a safe space for building self-confidence and exploring powerful tools of self-expression based on ancient traditions.
"The ultimate goals for this program are to have fun, learn new ways to observe what's really going on around us and find our true voice," said Sabene.
Sabene has been offering drum programs since 2005. She leads the longest running community drum circle in Syracuse, NY, and has offered programs to groups of ten to 100 since her certification with Jim Donovan's Drum Circle and Drum Chant training program in 2010.
Organizations that have hosted her "Rhythm Wellness" Programs for events and ongoing events are: Upstate Hospital, Veteran's Hospital, Syracuse University, Onondaga Community College, Lemoyne College and more.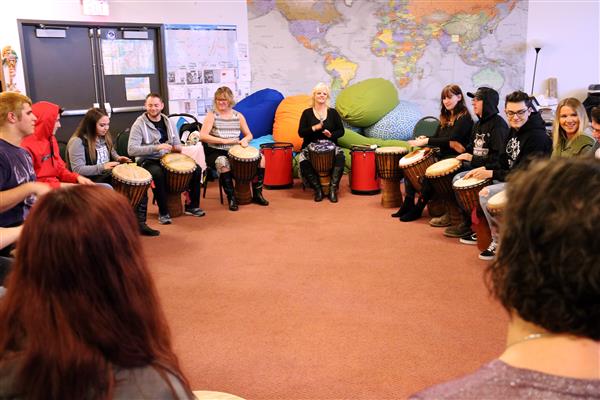 Certified drum facilitator Sandra Sabene leads the CiTi Care program in a drumming circle.