Arel Moodie inspires CTE seniors to prepare for success
Students from CiTi's Career and Technical Education programs learned about preparing for their next steps from bestselling author, entrepreneur, coach and professional speaker Arel Moodie.
Seniors from the morning and afternoon CTE programs recently sat in on Moodie's presentation, which was heavily focused on good practices for finances and working hard to prepare for goals.
Moodie teamed up with event sponsor Oswego County Federal Credit Union (OCFCU) to help promote financial literacy to the CTE seniors.
Courtesy of OCFCU, all seniors in attendance received a copy of Moodie's book "The Student Success Action Guide," a $5 coupon to open a savings account with the bank and a chance to win a digital photo printer.
Moodie's book is a 180-step checklist that students were challenged to complete throughout their senior year. Those who complete the challenge are eligible to win one of five $500 scholarships through OCFCU.
A Brooklyn native and Binghamton University graduate, Moodie shared that his family had very little money while growing up and offered his "secret advice" for finding success.
"It's not about who is the smartest or has the most talent, it's all about putting in hard work and effort," said Moodie.
---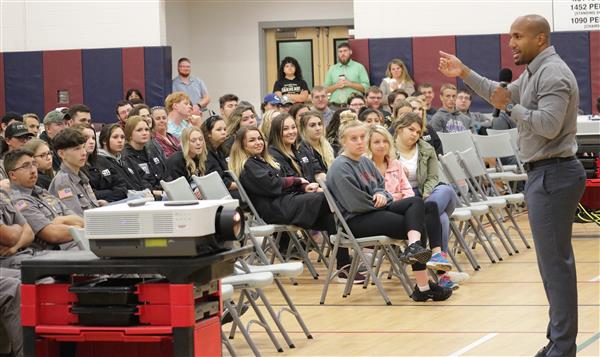 Motivational speaker Arel Moodie spoke to CiTi CTE seniors about preparing for their futures by working harder and managing their finances correctly.