Oswego County P-TECH Holds Industry Challenge with Industry Partner Novelis
Students in the Oswego County P-TECH program at the Center for Instruction, Technology & Innovation were given an engineering design by industry partner Novelis.
The purpose of the exercise was to apply a real-world engineering design process, those used by professional engineers and technicians, to solve the problem. For this imaginary "real-world" problem, the Novelis team determined there were containers located around the fictious plant that were emitting a mysterious substance into the air, causing the humidity to fluctuate. The teams were tasked with finding a solution, and to implement it as quickly as possible. Each team had to add "neutralizing agents" to one of the containers without any of their body getting too close to the container itself.
"Every student who attends P-TECH is promised an education rooted in authentic workplace learning experiences," said P-TECH principal Brian Heffron. "Events like this not only highlight our students technical and academic skills but build upon the professional skills that industry partners find critical to employee success."
Novelis had representatives on site to see how the students were doing with the challenge they constructed.
"These students understand the professional standards we're expecting; they understand the accountability we're expecting and the safety standards," said Novelis representative Dave Lloyd. "It's just a good opportunity for students to see how successful they can be; and these students are going to be successful and get phenomenal jobs in the next few years."
Novelis has hired 15 P-TECH students as interns, who all have the opportunity to become full-time employees with the company in the future.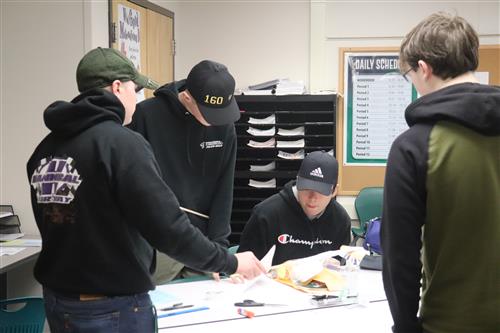 P-TECH students working on their design and plan during a recent challenge activity with the company Novelis.