Medical Assisting Graduation Ceremony Held
The Center for Career and Community Education (CCCE) Medical Assisting program graduation at the Center for Instruction, Technology & Innovation (CiTi) was held on December 9th where nine graduates were honored for successfully completing the 730-hour program. Graduates included: Mariah Bailey, Sarah DuPre, Meghan Murphy, Morgan Parkhurst, Jen Pieropan, Trinity Stupp, Abram Ucher, Casey Washer and Mackenzie Woodridge.
Following a welcome by CiTi's Assistant Superintendent for Personnel, Mark LaFountain, and opening remarks by District Superintendent Christopher Todd, CiTi Board of Education President John Shelmidine called Adult Education the "cornerstone of what this organization is all about." He also recognized the perseverance and determination that the students possess saying, "Much skill and dedication are required, in addition to the sacrifice of families and friends for these students to meet the challenges and be successful."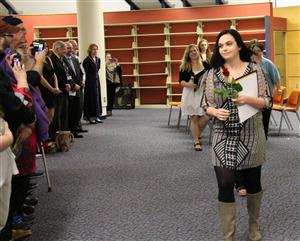 Shawna LaTulip, a former student and employee at Dr. Ram's office in Oswego, was the guest speaker for the night and spoke about the passion and dedication that she has in her job. She also thanked Shelly Spencer, the Medical Assistant instructor, saying, "She has played such an important and positive role in my life. Thank you Mrs. Spencer."
Class speaker was Sarah DuPre who talked to her fellow graduates about change and the inevitability that it will occur, but also shared how the program had prepared her for the future in the medical field. "Life if going to be a little shaken up and stirred!" she said in closing.
Each graduate was announced and presented with a certificate of completion as well as a pin commemorating the graduation.
Several students received recognition for their outstanding performance in the class including six who were inducted into the National Technical Honor Society (NTHS). NTHS looks at the overall performance and attitude of the student, professional conduct, overall average of 90% or better; and less than 5% absence rate for consideration into the elite honor society. The National Technical Honor Society inductees included: Casey Washer, Trinity Stupp, Jennifer Pieropan, Morgan Parkhurst, Meghan Murphy and Mariah Bailey. Other awards included Trinity Stupp, Salutatorian; Sarah DuPre, Valedictorian; and Gold Achievement awards presented to: Sarah DuPre, Trinity Stupp and Mackenzie Woodridge for an overall average of 97-100.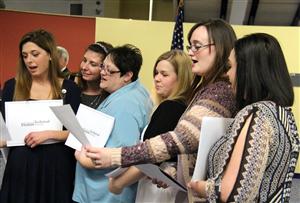 The class also celebrated an exceptional 100% passing rate for the program's certification exam.
For more information about the programs offered at the Center for Instruction, Technology & Innovation, including adult education offerings, visit their website at www.CiTiboces.org.