SYNERGY Virtual High School: Early College Pathways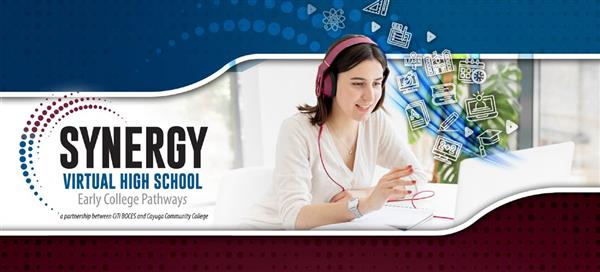 SYNERGY Virtual High School: Early College Pathways is a 100% virtual environment for students in grades 7-12. Core high school classes and college courses will be instructed virtually via interactive videoconferencing and online instruction by teachers from CiTi BOCES and professors from Cayuga Community College. Upon completion of SYNERGY, students will meet the requirements for a NY State High School diploma with the potential to complete an advanced diploma as well as an associate degree from Cayuga Community College through interactive videoconferencing and online classes from home.

SYNERGY is for students who are:

immunocompromised, struggle with anxiety, and/or have medical issues;

seeking an alternative education pathway;

disassociated/uncomfortable with the traditional high school experience;

seeking advancement in an academic/interest area;

interested in receiving a two-year college degree while still in high school;

able to thrive in a virtual educational environment.

Benefits of a Virtual High School with an Early College Pathway:

enhanced comfort and safety for teens/families who are immunocompromised or who are struggling with anxiety;

individualized pathway development for students in both NY State diploma and degree/non-degree college courses;

virtual enrichment opportunities after school;

development of 21st century skills for students;

building familiarity with college level expectations;

taking college courses in high school, potentially saving students/families future college costs;

preparing students to continue taking college level courses past high school.