Stepping Stones students create a milk carton gaming system
Local reigning national milk carton construction champions hope to hold onto their title, this time with a top-place finish in the fall 2016 Made By Milk carton construction contest.
Using the contest theme of inventions, members of The Blue Team at the Stepping Stones Day Program recently collected and repurposed milk cartons to create a gaming system. As part of their English Language Arts instruction, the students learned about famous inventors and machines that changed the world. Their efforts included research of the first gaming system and what game(s) were played on the device. They learned how important television was to bringing gaming into homes in the early 1970s. With this information, Teacher Robyn Yorker said the students designed a console television and the Magnavox "Odyssey" game system.
Contest voting begins Nov. 30. Yorker's students will need your help to win. To vote, visit www.madebymilkcontest.com, select "See Entries" tab, then select Elementary School 1-5. Scroll to find the entry: CiTi BOCES, Creation Name: "Where Gaming Got Its Start," and then under Team Name click "Blue Team." Voting will end Dec. 9 and winners will be notified Jan. 4.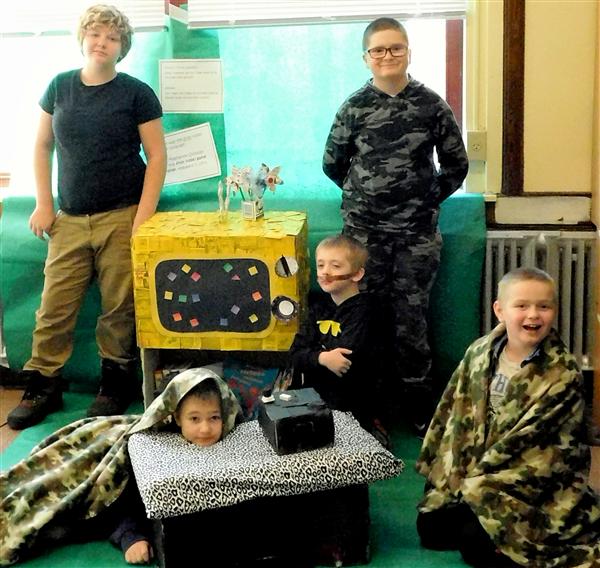 Students in Robyn Yorker's classroom at the Stepping Stones Day Program
show off their milk carton gaming system they constructed for a national
contest. Standing in back are Jenalee Pierce and Marc Chetney. Seated are
Craig Chappell, Jayson Rettig and Tyler Richards.