OCAY League Solves Mock Crime
Oswego County Academic Youth (OCAY) League participants spent their second event of the school year analyzing scientific evidence and forensic files to solve a mock crime.
Hosted at the NYS Department of Environmental Conservation Training Academy in Pulaski, teams from several districts in Oswego County acted as forensic scientists in crime scene analysis, facial composite sketching and laboratory analyses to solve hypothetical crimes.
Students learned that it takes someone who is highly analytical, accurate, detail-oriented and excellent at communicating to be a forensic scientist.
During the crime scene analysis task, forensic scientist teams of two walked through a crime scene and collected written evidence, including drawings and sketches, describing pertinent findings at the scene. The teams were judged on their ability to recognize and document aspects of the crime scene that were important to determining the perpetrator(s) of the crime.
In the "forensic laboratory," scientist teams kept busy studying evidence through microscopes and creating data tables.
After the points of the days' tasks were tallied by a panel of judges, Mexico Academy & Central Schools proved victorious. Oswego City School District came in second place, and Pulaski Academy & Central Schools came in third place.
OCAY League is coordinated through the Center for Instruction, Technology and Innovation's gifted and talented program.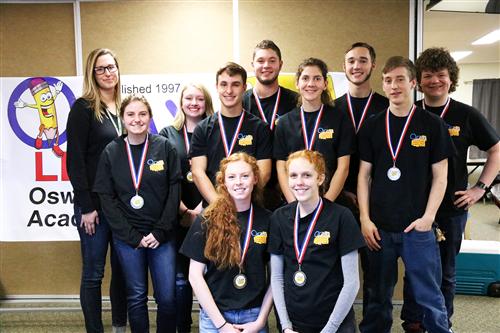 Mexico Academy & Central Schools comes in first place at the second OCAY
League event of the year. Participants are: Emily Blunt, Rob Cassidy, Kylene
Fletcher, Sean Heagerty, Ben Pelow, Brendon Pullen, Becca Saya, Caitlin

Spurling, Abigale Weber and Austin Whitaker.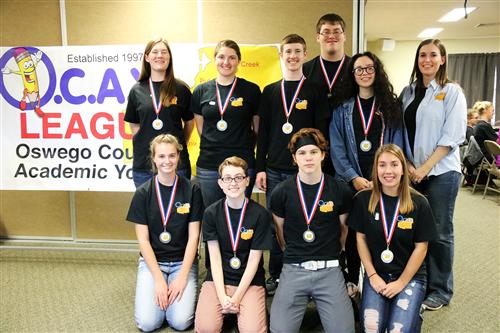 Oswego City School District takes second place at OCAY League. Participants
are: Michael Beckwith, Danielle DelConte, Olivia DeLorenzo, Emma Easter,
Ellie Lisec, Turner McElroy, Jordan Runner, Sarah Smolinski and Sophia Throop.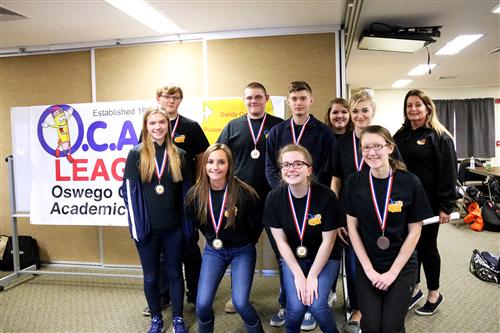 Pulaski Academy & Central Schools receives third place at OCAY League.
Participants are: Lindsey Shampine, Evan Jones, Ruth VanderHeide, Brett Nielsen,
Tom Gibbons, Alexis Bowen, Jackie Booth, Tessa Powlin and Jenny Lapp.