Dictionaries Distributed at Stepping Stones
Stepping Stones Day Program students received early holiday gifts from Fulton Noon Rotary members: free dictionaries.
Rotarians Bill Lynch and Jerry Seguin, who also is the Fulton City School District Director of Facilities, Operations and Transportation, stopped by the day program to distribute copies of "The Best Dictionary for Students" and share the club's quest to promote literacy. Students learned that Rotarians support their reading, writing and speaking efforts.
Teacher Robyn Yorker said the visit coincided with a dictionary discussion in her Blue Team classroom. There, students study a word of the week each week to improve their vocabulary.
Pictured in back are Seguin, left, and Lynch, right. Standing in the middle row, from left, are students: Damion Bean, Tyler Richards and Marc Chetney. Kneeling in front is Craig Chappell.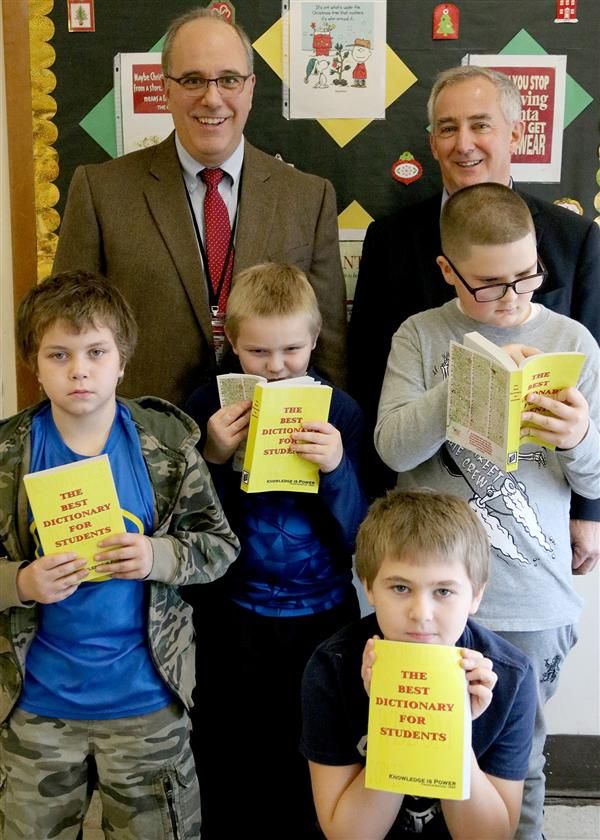 Stepping Stones Day Program students show off their new dictionaries, which
were recently distributed by Fulton Noon Rotary members Jerry Seguin and
Bill Lynch, standing in back.