Stepping Stones students put concert etiquette to the test
Students in Mary Hirsch's class at the Stepping Stones Day Program wanted their concert etiquette lessons to reach far beyond their classroom.
As a culmination activity to their etiquette unit, Hirsch's students prepared posters for a recent Mexico Brass concert in the Fourth Street School auditorium, researched concert etiquette and drafted appropriate rules which they recorded on video. Stepping Stones teachers accessed the video through Google Drive and shared it with their students.
Hirsch commended her students for their hard work and attentiveness during the Mexico Brass performance. Participating students include: Ava Delong, Mikal Ivy, Makalia Buckley, Evan Donda and Chris McCartney.
Following the sounds of holiday tunes, Santa gifted each student a book with help from the CiTi library. CiTi library media specialist Tammy Cummings said the book distribution served as a way to encourage reading throughout the holidays and on snow days.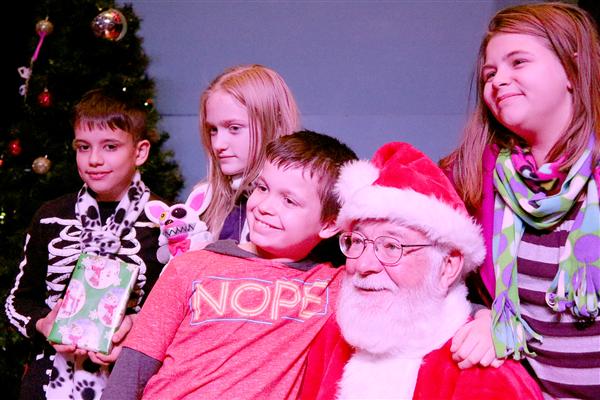 From left, students Mikal Ivy, Makalia Buckley, Evan Donda and Ava
DeLong are all smiles after Santa distributed books to all Stepping Stones Day
Program participants.