CiTi Distance Learning program connects elementary schools
Brown bear, brown bear what do you see? A videoconference connection at Minetto Elementary.
Inspired by the Bill Martin and Eric Carle children's book "Brown Bear, Brown Bear, What Do You See?," a video chat with Arcade Elementary pre-kindergarten students helped Minetto's pre-k students meet Common Core learning standards. Facilitated by the Distance Learning program at the Center for Instruction, Technology & Innovation, the recent videoconference connected the two classrooms so they could foster skills, such as the mathematical more-or-less concept, listening and speaking, the ability to share information and graphing.
At the conclusion of the conference, students from both classes sang and danced to the "Reindeer Pokey."
Melissa Daniels, CiTi Distance Learning coordinator, has assisted videoconference connections to help students enrich existing curriculum and improve communication and social skills. For more information, visit citiboces.org.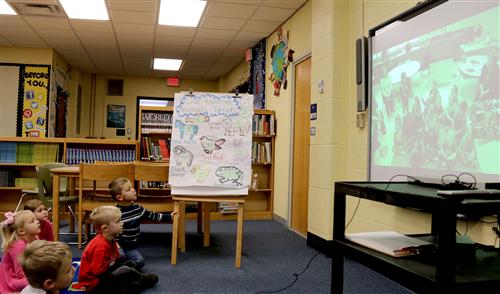 A videoconference facilitated by the Center for Instruction, Technology &
Innovation connects Minetto Elementary School students, at left, to Arcade
Elementary School students, at right.