O&M Staff Benefit from Seminar and Trade Show
Operations and Maintenance (O&M) staff from all nine Oswego County school districts, as well as from the Center for Instruction, Technology & Innovation (CiTi), recently participated in the 22nd annual School Facilities Association Professional Development Seminar and Trade Show held at the Mexico Middle School.
The event serves to provide staff development opportunities for O&M school facilities employees in the region. This year's seminar welcomed guest speaker Matthe Goerke, President of the Memory Switch Program, a memory technology training that provides individuals with tools to help improve their memory.
Goerke is regarded as one of the nation's leading experts in the field of memory, and his methods are designed to help improve time management skills, work effectiveness and stress levels. One part of the training involved skills to remember the names of people.
"You give people a reason to remember them by remembering them first," said Goerke.
According to CiTi's Director of Facilities Wayne Wideman, the seminar and trade show drew 180 participants from all nine Oswego County districts and CiTi as well as staff from Onondaga, Madison, Jefferson and Lewis counties. These participants also had the chance to speak with representatives from 57 different companies who participated in the vendor trade show, seeing and trying out the latest and greatest in the school operations and maintenance world.
"As a group, we could not be more proud of this event and how it provides professional development for our staff," said Wideman.
The Mexico Academy and Central Schools District food service group provided lunch for the attendee as they have done for the past 10 years. Wideman expressed his appreciation for the fantastic meal.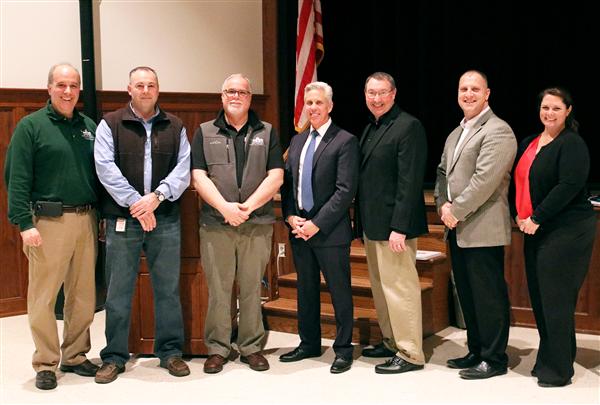 Operations and Maintenance staff from all nine Oswego County school districts
and CiTi benefit from a "Your Memory Matters" presentation by Matthew
Goerke, President of the Memory Switch Program. Directors of facilities pose
for a photo with Goerke; from left, Jerry Seguin (Fulton City School District)
Mike Wood (Mexico Academy and Central Schools) David Poore (Altmar-
Parish-Williamstown Central School District), Matthew Goerke (Memory
Switch Program President), Wayne Wideman (CiTi), Keith Watkins (Phoenix
Central School District) and Patty Cerio (CiTi
Safety Coordinator).