Stepping Stones Day Program students record PSAs
Students in Robyn Yorker's classroom at the Stepping Stones Day Program want the community to know why it's important to vote.
To help spread their messages, The Blue Team students each made public service announcements as a project-based learning activity for their English language arts unit on suffrage and women's rights. The students researched a voting topic, wrote note cards to help them stay focused and utilized a green screen and video camera to complete their PSAs with the help of Yorker and Tammy Cummings, library media specialist at the Center for Instruction, Technology & Innovation (CiTi).
In preparation for their projects, the students read "The Hope Chest" by Karen Schwabach about a young girl's journey through the suffrage movement. Students also learned the following key facts: in 1776 the Declaration of Independence was adopted, in 1787 the U.S. Constitution was signed, in 1848 a women's rights convention took place in Seneca Falls, NY, in 1878 Congress rejected Susan B. Anthony amendment and finally in 1920 the 19th amendment finally passed, which gave women the right to vote. The class also spoke together about general politics, voting for school choice and President Donald J. Trump.
The student PSAs encouraged people to vote with the future in mind and to make all lives better.
"We need epic leadership," student Ian Nickerson said.
"It's important to vote because if you don't vote there'll be no president, no rules and mayhem would happen," said student Tyler Richards.
For the ELA unit, Yorker said the students assisted her with writing a classroom constitution, in which students pledged they wouldn't fight, will do their work and will use kind words.
The project also coincided with Women's History Month, which is celebrated in March.
Stepping Stones Day Program is a collaborative effort between CiTi and Hillside Children's Center, which provides a structured, small-group environment to help students overcome emotional and behavioral challenges so they may return to their home school district.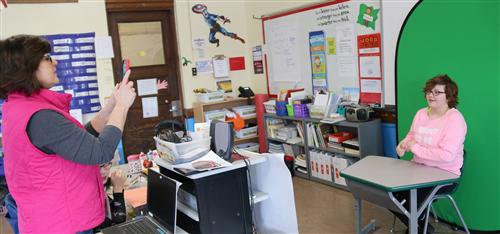 Stepping Stones Day Program teacher Robyn Yorker, left, records a suffrage
movement public service announcement scripted by student Jenalee Pierce, right.