CCCE Presents Seven New Medical Assisting Graduates
The Center for Career and Community Education (CCCE) presented seven new Medical Assisting graduates at their completion ceremony March 5.
"I feel the best part of the class was the hands-on experience," said salutatorian Amy Arden.
The class received a 100% pass rate on their certification exam. Every graduate also received a National Career Readiness Certificate through WorkKeys, validating their skill set for the work they will be doing.
The following students completed the program: Amy Arden (salutatorian), Kari Firenze (valedictorian), Lori Coldiron, Tammy Henderson, Mackenzie Casler, Majesta Hallock and Megan Meddaugh. Arden, Firenze and Coldiron were also presented with National Technical Honor Society awards.
CCCE's fall Nurse Assistant class also graduated recently and passed their prometric exam. The five students were: Ashley Gates, Steven Gozzi, Tiffani Pike, LaTasha Sistrunk and Kim Weaver.
For more information on adult education offerings through CCCE, visit www.ccceonthemove.com or call (315) 593-9400.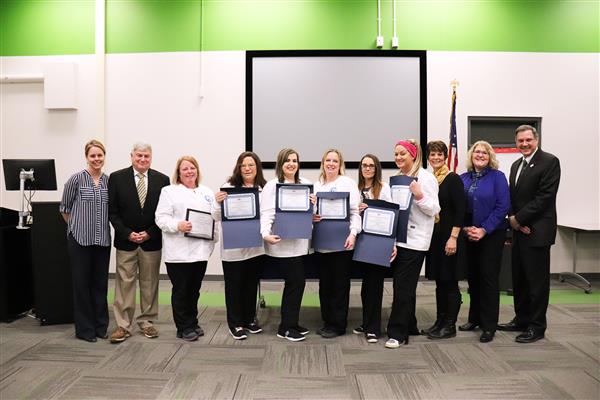 CCCE graduates seven medical assisting students. From left, CCCE Health Occupations Coordinator Elizabeth Rice, CiTi Board of Education President John Shelmidine, Medical Assisting graduates Lori Coldiron, Tammy Henderson, Mackenzie Casler, Amy Arden, Kari Firenze, Majesta Hallock, CCCE Medical Assisting Instructor Shelly Spencer, CCCE Liaison for Workforce Initiatives and Corporate Programs Paula S. Hayes and CiTi Assistant Superintendent for Personnel Mark LaFountain. Not pictured, Medical Assisting graduate Megan Meddaugh.