CiTi's New Vision program celebrates Class of 2019
A rigorous year of studies, rotations and determination culminated recently as nearly 80 students from the New Vision programs at the Center for Instruction, Technology & Innovation were honored as 2019 graduates.
In total, 77 students from the school districts throughout Oswego County graduated from the programs, broken into Allied Health, Law and Government and Specialized Careers. With family, school administrators and partners looking on, the ceremony took place at SUNY Oswego's Sheldon Hall Ballroom on Wednesday, June 12.
The New Vision programs are designed for high school seniors and combines classroom instruction with clinical rotation settings such as Oswego Health and various Oswego County services.
SUNY Oswego Dean of Extended Learning Jill Pippin welcomed the group, noting that programs like New Vision help students truly explore their pathways in today's high-tech and global economy.
"Research shows that students who participate in hands-on learning experiences in the work world are more successful in selecting and pursuing their career of choice," said Pippin. "It also shows that students who take college courses in high school are better prepared for and transition to college more effectively."
CiTi's Director of College and Career Education Marla Berlin opened the program by noting how impressed she was with the group's accomplishments and noted none of this would be possible without the program's numerous community partners.
"These very busy professionals all open their offices, businesses and patrol cars to you as New Vision students so they can share their pride and expertise in what they do and to be a part of shaping your career paths," Berlin said.
Student speeches were provided by Hannibal's Edward Lamb, Oswego's Monica Cahill, Pulaski's Emily Klein, Fulton's Raiden Hansen and Central Square's Ryan Merkel. Then, certificates were presented by CiTi Principal of Student Programs Robyn Proud, New Vision instructors Dianna Nesbitt and Emily Kirch, Berlin and Pippin.
Photos by district and a full list of program participants plus community partners can be viewed at: https://www.facebook.com/CiTiboces/posts/1242544005893701.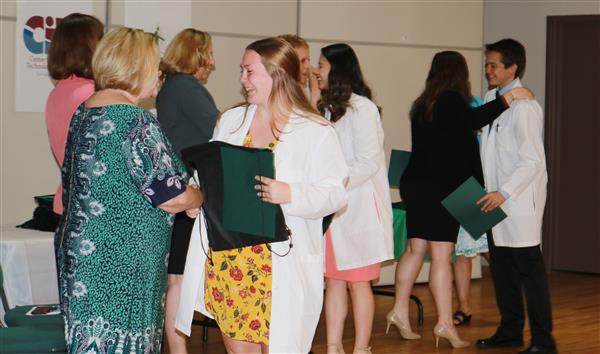 A total of 77 students from districts throughout Oswego County graduated from the New Vision programs at the Center for Instruction, Technology & Innovation during a ceremony held June 12 at SUNY Oswego. Pictured, Allied Health students greet instructors and administrators after receiving their certificates.