Oswego Writing Institute inspires, enlightens attendees
Reading and writing, along with its power to help shape minds and record memories, was celebrated recently at the annual Oswego Writing Institute.

The two-day writing institute, held last month at SUNY Oswego's Marano Campus Center, culminated with a powerful speech from former professor Linda Loomis, who encouraged attendees to write as a form of discovery, healing, power and legacy.

"Discovering our gift for writing means not only finding a sense of freedom, but also finding our will," said Loomis, who taught for many years at SUNY Oswego.

Area professionals attended the institute and learned from more than 20 professional development sessions that featured award-winning authors Todd Strasser and Tonya Bolden.

Echoing the institute's theme of "Power of the Past: Reading and Writing to Remember and Learn," Bolden reminded everyone that "all history is everybody's history." A non-fiction writer, Bolden noted in her speech that history provides a way for us to understand the present.

Strasser, who has penned hundreds of young-adult and middle grade novels plus many non-fiction works, gave an impassioned speech about the courage writing takes and the importance of emotion in stories.

The institute wrapped up in a strong round of applause as longtime Oswego City School District teacher and mentor Cheryl Beck was awarded the 2019 Oswego Writing Institute Award.

OCSD Superintendent Dr. Dean Goewey, Fitzhugh Park Elementary School Principal Donna Simmons and Oswego Middle School Principal Mary Beth Fierro were on hand to show support and pride of Beck's significant contributions to literacy and writing throughout the district and entire community. Beck has worked in the district for nearly 30 years, most recently as a reading teacher at FPS.

The Oswego Writing Institute is co-directed by Carri Waloven and Christine Walsh, who thanked the crowd for another successful year. The institute is a partnership between SUNY Oswego and the Fulton City School District for the past five years.
---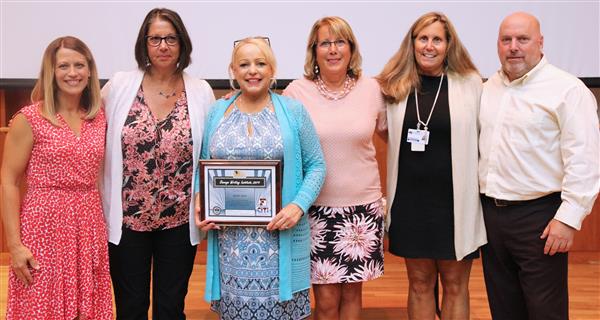 Longtime OCSD teacher and mentor Cheryl Beck, third from left with plaque, was recently honored as the 2019 recipient of the Oswego Writing Institute award. Pictured, from left, are OWI co-directors Carri Waloven and Christine Walsh, Beck, Fitzhugh Park Elementary Prinicpal Donna Simmons, Oswego Middle School Principal Mary Beth Fierro and OCSD Superintendent Dr. Dean Goewey.
---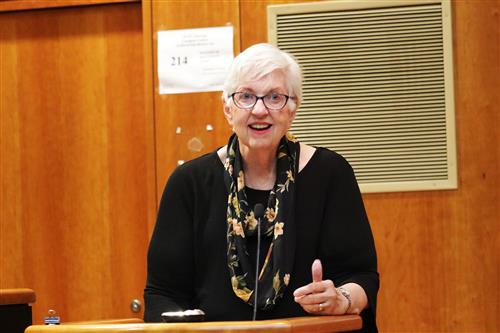 Former SUNY Oswego professor Linda Loomis speaks at the Oswego Writing Institute last month. Loomis was the final speaker of the two-day event, which is held annually at SUNY Oswego's Marano Campus Center.