CiTi Students Recognized with Scholarships and Awards
The Center for Instruction, Technology & Innovation awarded several scholarships, awards and distinctions to students during end-of-the-year virtual ceremonies recently.
The following students earned the ACT WorkKeys National Career Readiness Certificate: Alexis Centrone (Bridges), Jada AuClair (CARE), Miranda Bemis (CARE), Abigail Brancato (CARE), John Race (CARE), Zoey Ware (CARE), Gabrielle Dickens (CARE), Jared Gardner (CARE) and Benjamin Martin (CARE). In addition, the following P-TECH students earned the NCRC as well: Mikayla Abbott, Abigail Bielby, Nathan Chapman, Olivia DeGraw, Jeremy Fuller, Maxwell Hill, Trevor Humez, Zachary Mayo, Ryan McRitchie, Collin Merkel, Christopher Millward, Nicholas Newton, Quinn Wallis, Noah Walter, Jacob Waters, Jasmine Williamson, Logan Wilson, Connor Beckwith. Catie-ann Blodgett, Alexander Coons, Sydney DeLosh, Blake Donhauser, Cole Donovan, Ella Heckert, Aiden Heller, Cole Joyce, Zachary Mahan, Matthew McDougal, Scott Nelson Jr, Alex Olschewske, Madeleine Palmer, Olivia Pappa, Ethan Teller, Gavin Wilson, Matthew Jeffery, Devin Kinikin, Dominick Randall, Kaleb Rogers and Ian Rudd.
The following CTE students were recognized with the Dr. David M. Stern Most Improved Award: Jacob Chrisman, Connor Picciott, Travis Gallia, Tyler Dence, Joseph Moore, Jacob Shatrau, Caleb Connolly, Nate Blasczienski, Kaylee DeCheck, Jordyn Santola, Fakiya Mudata, Mackenzie Gleason, Zachary Moore, Kaden Fletcher, Sierra Courcy, Danielle Ingison, James Campbell, Bryan Stock, Jamie Huveldt, Caroline Stainton, Sydney Cook, Montana Goodnow, Delilah Paternoster, John Fralix Jr., Hunter Hadlock, Travis Crosby, Owen Sheldon, Austin Danquer, Logan Saccocci, Cole Graham, Michael Gushlaw Jr., Joseph DeStevens, Sammy Sawyer, Robert Minard, Deven Burl, Neve' Banack, Hannah Comstock, Aryel Sharp, Jordan Guernsey, Jennifer Pittman, Bradley Cuyler, McKenna House, Charlynne Storrs, Keirstyn Prahl, Rachel Alfano, Robert Brown, Camran Andreotta, Nate Larson, Amber Amidon, Laura Hayden, Elizabeth-Ann Rowand, Alexis Loomis, Hailey West, Tyler Lattenhauer, Andrew Centrone, Jacob Dibble and Devin Collins.
The following CTE students were presented with the Oswego Elks Lodge #271 Teen of the Month Award: Emilie Lyboult, Emma McCarthy, Demetri Pappa and Brooke Whitaker.
The following CTE students received scholarships: the Dr. Burton Ramer Scholarship, Katelyn Spaulding, the John A. Hort Scholarship, Alyssa Kurak, the Dylan Blair Automotive Wrenching Award, Jacob Smith, the Spike Nolan Making a Difference Scholarship, Emily Sampson and Kameron Balcom, the Blue Knights Scholarship, Emily Sampson and the Jarrett Wells Memorial Scholarship for Construction Technology students, Abbigayle Wood, Jeremy Fellow, Heather Hunt and Ethan Munk.
A new CRYOMECH and Liverpool Turkey Trot Scholarship was established in the fall of 2019 with the focus on students who have or will make a difference in career and technical fields. The intent of the scholarship is to reward and recognize students who show passion and knowledge of their craft, leadership qualities and a strong work ethic. The following students received this special honor: Emma McCarthy (CTE), Madison Watkins (CTE), Gabrielle Moran (New Vision), Caitlyn Fellows (CTE), Brooke Jones (Full-day Work-study), Caleb Trepasso (1/2 Day Work-study), Brent Edward Wiggins (1/2 Day Work-study) and Tiffany Young (Full-day Work-study).
Hundreds of CTE students earned technical endorsement. The following students earned National Technical Honor Society 2nd Year Recognition: Joshua Evans, Casey DeLapp, Levi Darling, Jayden Trevett, Emily Sampson, Trevor Nemier, Brittany Cross, Travis Crosby, Sarah Cory, Nicholas McCombie, Brittany Roser, Melina Mandell, Taylor Bonoffski, Ryan Whitcomb, Jacob SmithSteven Onufrak, William Monica, Connor Hunter, Madison Watkins, Alyssa Kurak, Megan Coe, Emma McCarthy, Gabrielle Gloude, Alekzander Capelletti, Hillary O'Bryan, Navaeh Worley, Makenzie Wells, Madison Pepper, Lauren Kline, Ivy Jeter, Tori DeYear, Tiaira Copenhaver, Tanner Sheltra, Jacob Shatrau, Coralynne Milliken, Jeffrey Klein, Ethan Greenfield, Jordan Castor, Kameron Balcom and Kyle Marks.
New members inducted into NTHS this year were: Jacob Chrisman, Dylan Keys, Joshua Sokolic, Justin Charsky, Patrick Dattler, Kamden Hardy, Jesse Hill Jr., Kyle McEwen, Heather Hunt, Morgan butler, Genna Eusepi, Jordan Guernsey, Sierra Harris, Paige Pierce, Kaylyn Valley, Brooke Whitaker, Abigail Babcock, Ashley Bogart, Abigail Mahan, Fakiya Mudata, Tory Paro, Summer Cusson, Katelynn Spaulding, Kaitlyn Cowan, Kendyll Green, Leeann Wolfanger, Anthony Allen, Gavin Brown, Austin King, Alex Rivera, Tyler Young, Brevyn Barnhart, Jeffrey Cooper, Samuel Metcalf, Jocab Seeley, Jordan Burdick, Amaya Malambri, Nicole Redford, Jacqueline Shaffer, Skylar Skellington, Evan Carpenter, Nathaniele Ouellette, Hunter Schwalm, Adam Venton, Corey Holden, Tyler Lattenhauer, Noah Lyboult, Jacob Wright, Brennah Deisz, Dylon Richards and Cody Roser.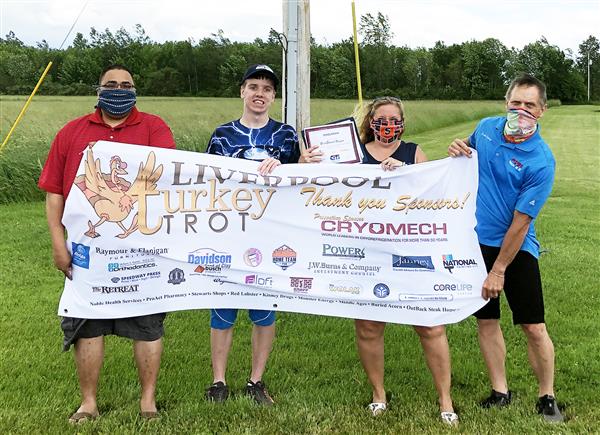 CiTi Work-study student receives a Liverpool Turkey Trot CRYOMECH Scholarship. From left, CiTi Principal Guy Linton, student Brent Edward Wiggins, CiTi Exceptional Education Teacher Bonnie Eastman and CiTi Guidance Counselor Scott Henry.