CiTi Fourth Street School Opens "The Spark" Store for Students
The Center for Instruction, Technology & Innovation (CiTi) is once again expanding opportunities for exceptional education students; through the vision of a teacher and the help of a custodial worker, the Fulton Fourth Street School location now offers a school-wide store as part of their positive behavioral program, where students can earn dollars they can spend at "The Spark."
CiTi Custodian Ginger Bieganowski built the mobile store on wheels herself on her own time outside of work hours, saying it was her pleasure and she is proud of it. The name "The Spark" aligns with the CiTi mascot, Sparky the dragon.
To double up on the opportunity, the store will be run by the school's Work-study program, offering work-study hours to students 16 to 21 years of age.
The project ties into the Independent Living Lab goals of outreach to the school community through service. Last year, Teacher Dayna Lunkenheimer and CiTi staff pioneered the creation of the Independent Living Lab at CiTi's Fourth Street School, a space that allows for students to learn, practice and apply the skills they have acquired to promote individual growth and independence.
The room resembles an apartment, where students learn basic life skills like doing laundry, making a bed, washing dishes and performing general cleaning.
"For us as educators, it's about where can we meet our students and where can we take them," said Lunkenheimer.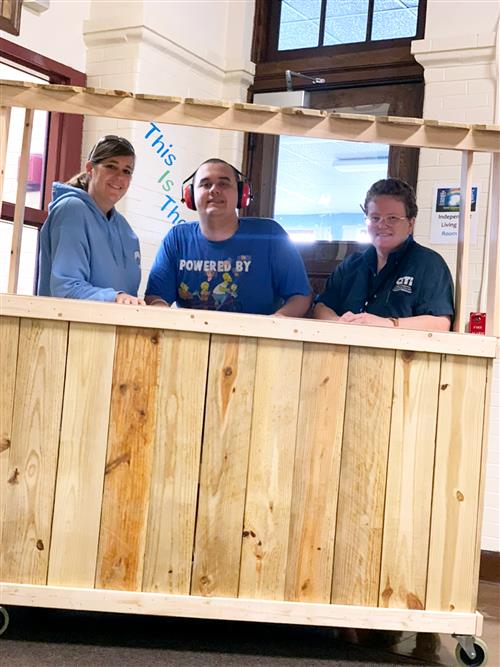 From left, CiTi Teacher Dayna Lunkenheimer, student Mitchell Twiss and Custodian Ginger Bieganowski smile behind the newly constructed mobile store "The Spark."