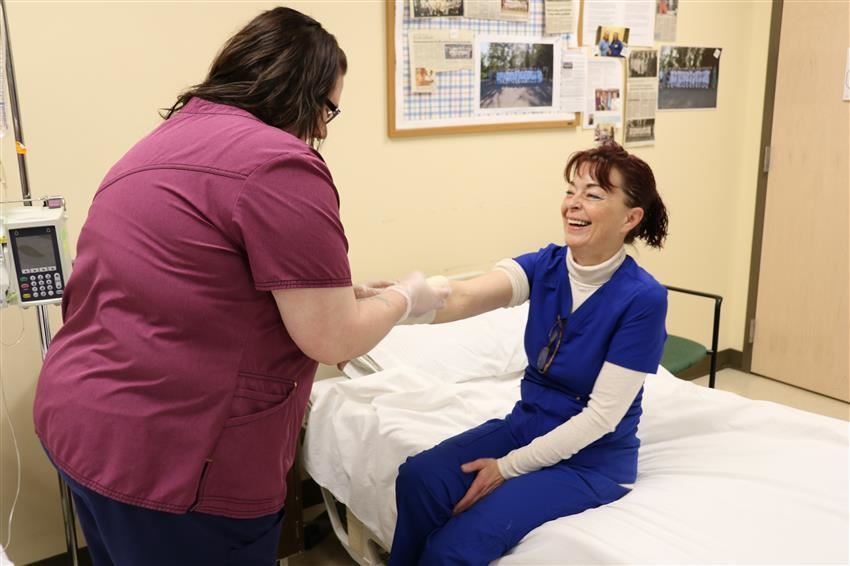 Practical nurses perform hands-on patient care in a high-demand occupation. This program prepares students to work as a practical nurse in such places as homecare agencies, nursing homes, physicians' offices, hospitals and healthcare clinics. Students learn through classroom, lab and clinical experiences. After the successful completion of Basic Skills, students will sit for the New York state Nurse Aide Certification Test to earn a certificate as a Certified Nurse Assistant (CNA). Phase two of the program includes Medical-Surgical Nursing and Specialty Areas (Reproductive Health, Mental Health and Pediatrics), with continued lab and clinical experience. Upon successful completion of the program, students are eligible to sit for the National Council Licensure Examination (NCLEX). Upon successful completion, students will be issued a CiTi Certificate of Completion.

SOC (Standard Occupational Classification) Code: 29-2061
U.S. Department of Labor: www.bls.gov/SOC
HEGIS Code 5209.20



---

Practical Nursing Teacher, Jennifer DiGregorio, RN, gives a brief overview of the CiTi Adult Offerings Practical Nursing program:

---
Admissions Requirements:

Completed application with two professional references

Passing score on the KAPLAN pre-entrance exam

250-word essay

HS Diploma or equivalent required

College transcripts, if prior attendance

Up-to-date physical and immunization records

Valid CPR card

Students must provide their own stethoscope, watch, white shoes, medical scissors and medical flashlight pen

Computer with camera and Internet access are highly recommended

If you have ever been convicted of a misdemeanor or felony or have charges pending against you for professional misconduct, contact the NYSED Office of Professions at https://eservices.nysed.gov/professions/contact-us/#/ prior to enrollment to determine your eligibility to receive a license. Questions pertaining to moral character may hamper your ability to obtain a nursing license even if you have passed all Practical Nursing classes and the NCLEX.

Interview

Application Fee: $75 non-refundable application fee is required.
Course Information
Tuition: $13,300 (Includes E-books, supplies, NYS Nurse Aide Certification Test fee and uniforms. Tuition also covers the NCLEX Exam Fee.)

Median loan debt incurred by student: $9,500

Completion Rate**: 92%

Job Placement Rate**: 100%

NCLEX Licensure Exam Pass Rate**: 85%

Program Length: 1200 hours

Schedule: Monday-Friday, 8 a.m. - 3:30 p.m. (class/lab); Clinical hours are generally Monday-Friday, 6:45 a.m. - 3 p.m. (clinical hours will vary)

Location: Center for Instruction, Technology & Innovation (CiTi)- Cayuga Community College Campus (11 River Glen Dr, Fulton, NY 13069)

Start Date: Fall

Taught by: Elizabeth Rice, BSN RN, Jennifer DiGregorio, RN, Penney Loomis, RN, Eleanor Miller, RN

Application Fee: $75 non-refundable application fee is required

Average Salary*: $46,240

*According to U.S. Bureau of Labor Statistics

**According to CiTi data for the 2020-2021 program year

This is a COE-approved program.

Testimonials
"I felt confident enough to enter into the accelerated BSN program through Le Moyne College and St. Joe's nursing progrem because of my time at CiTi. I have also accepted a job at St. Joe's on their materity floor. The LPN program at CiTi prepared me so incredibily well, especially with how it was taught. I am confident saying I never would have gotten here without you all." - Rose Margaret, alumna